Beecroft Nursery is located at the junction of Queen Anne Drive and Harvey Road, Wimborne BH21 3BA

Located in Merley near Wimborne, Beecroft Nurseries is one of the last independent nurseries/garden centres in the area. Approaching its fiftieth year, Beecroft Nursery was relocated from its original site in Broadstone to its present location in 1972. Offering gardeners a range of good reliable varieties of shrubs that will thrive in the local area, along with advice on growth habits, planting, subsequent pruning, and a planting service. We're all about the plants.
Beecroft Nursery Opening Hours;
Mon 12:00 to 4:30. Tue 10:30 to 4:30. Wed 10:30 to 4:30. Thurs 10:30 to 4:30.
Friday 10:30 to 4:30. Saturday 10:30 to 4:00. Sunday 10:30 to 4:00.
Whilst we strive to be at the Nursery during the advertised hours, sometimes we do have to make local deliveries. If we're not there please call 07759 837 404 to see how far away we are or pop back to us another time - please do not disturb our neighbour in the house.
& Garden Centre in Wimborne, Dorset
hedging plants | hanging baskets | shrubs | bedding plants | log sales | christmas trees
'Wimborne In Bloom' winning baskets
Ready made for you to hang and enjoy
Created and nurtured in our greenhouses
'Gold' Award Winning 'colour themed' hanging baskets made to order ...
Beecroft Nursery take client's 'pre-orders' from early April onwards for their high quality hanging baskets.
We offer a few different sized and shaped baskets and various colour options, we can also make baskets up with your specific colour scheme* and your own baskets if you drop them into us having discussed your requirements with us first.
Gold Winning Hanging Baskets for 'Wimborne In Bloom' ...
Beecroft Nursery are pleased once again to have created and supplied hundreds of hanging baskets to Wimborne, for their yearly entry into 'The South and South East in Bloom' Awards.
In 2018, for the fifth successive year a Gold Award was given and the Town. Wimborne was also the Town category winner for the second year running. Additionally Wimborne Minster was announced as the County Winner, by achieving the highest score of all of the Dorset 'In Bloom' entries that year.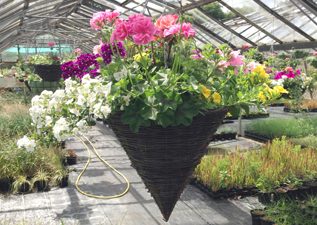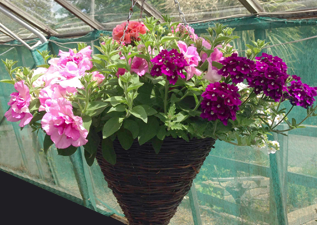 Arrange a viewing when they're ready to buy
Gold Award Winning Hanging Baskets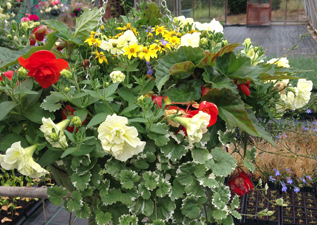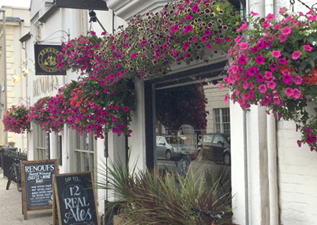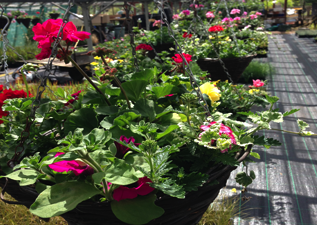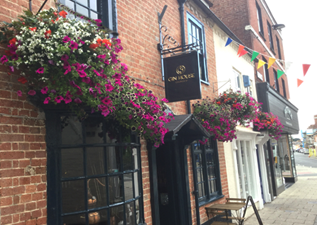 We'll even pot up your own baskets